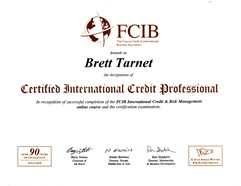 Brett Tarnet has been awarded the Certified International Credit Professional designation by the Finance, Credit & International Business Association, an affiliate of the National Association of Credit Managers (NACM).  This designation is awarded on satisfactory completion of a rigorous 12-part course.
The course covered such topics as organizational structure, international law, risk assessment methods, analysis tools, and banking systems.
Brett will use the insights gained in the program to better support clients in  efforts to manage international credit risk.